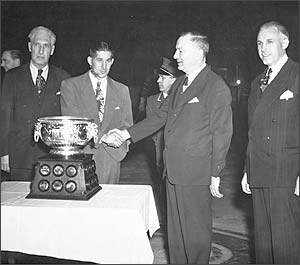 The Canadiens Elmer Lach (second from left) receives the inaugural Art Ross Trophy, from the man for whom the trophy is named for. (Photo: HHOF)
1948: At the NHL Annual meeting in Montreal, it was announced that the Art Ross Trophy would now be awarded annually to the scoring leader, rather than "the outstanding player". Montreal's Elmer Lach became the first winner (with 61 points in 1947-48).
1986: Hall of Fame Left Wing Aurèle Joliat passes away at age 84.
2000: Montreal trades their 7th Round pick in the 2000 NHL Entry Draft (later dealt to the Flyers, who picked John Eichelberger) to the Tampa Bay Lightning for Kevin Hodson. Hodson went into a brief retirement.
2003: The Canadiens name Bob Gainey Executive Vice-President and General Manager, replacing Andre Savard, who became the Assistant G.M.
Habs Born on This Day: Gilles Dube (1927), Larry Robinson (1951), Russ Courtnall (1965), Chris Higgins (1983)
Sources: