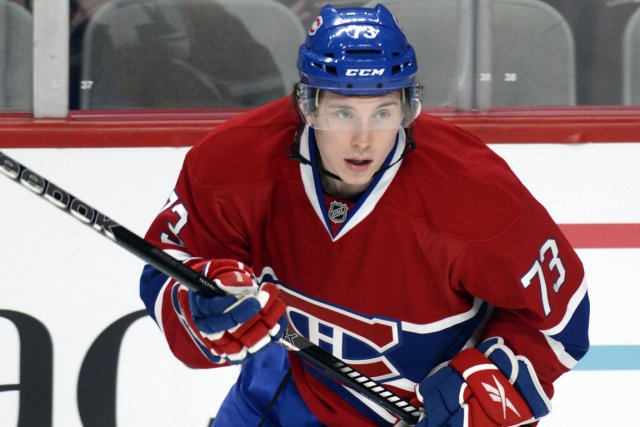 Brendan Gallagher turns 21 today (Photo: Bernard Brault, La Presse)
1973: Ken Dryden recorded his first career playoff shutout to lead the Canadiens to a 4-0 win over the Chicago Black Hawks, in Game 4 of the Stanley Cup Finals.
1976: The Canadiens started a streak of 11 consecutive playoff victories with a 5-2 win over the New York Islanders, in Game 5 of the Semi-Final Round. Montreal advanced to the Stanley Cup Finals agaisnt the Philadelphia Flyers.
1993: Gilbert Dionne scored at 8:28 of overtime to lead the Canadiens to a 4-3 playoff win over the Buffalo Sabres, and a 3-0 lead in the Adams Division Finals.
2010: Tom Pyatt scored a goal and an assist in Montreal's 3-2 win over the Pittsburgh Penguins, in Game Four of the Eastern Conference Semi-Finals.
Habs Born on This Day: Norm Collings (1910), Garry Edmundson (1932), Brendan Gallagher (1992)
Sources: