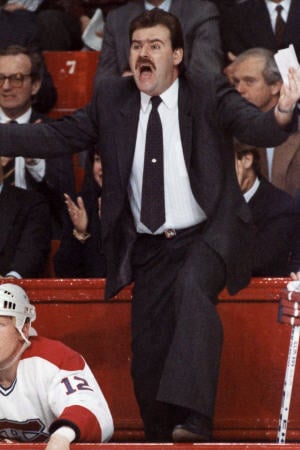 Pat Burns was born on this day in 1952 (Photo : CP/Shaney Komulainen)
1944:
Maurice Richard made his Stanley Cup Finals debut, getting an assist on the game winning goal, in a 5-1 Montreal Canadiens' victory over the Chicago Black Hawks in Game One of the Finals.
1950:
Elmer Lach scored at 15:19 of overtime to lead the Canadiens to a 3-2 playoff win over the New York Rangers, in Game Four of the Stanley Cup Semi-Finals in Montreal. Norm Dussault and Maurice Richard each scored a goal and an assist.
1953:
Jacques Plante became the fourth rookie goalie in NHL history to get a shutout in his first career playoff game, when he led the Canadiens to a 3-0 win over Chicago, in Game 6 of the Stanley Cup Semi-Finals.
1961:
The Canadiens miss the Stanley Cup Final, for the first time since 1949, after losing 3-0 to the Black Hawks in Game Six of the Semi-Final.
1971:
Jean Beliveau played his final regular season game, the 1,125th of his career, a 7-2 Montreal loss to the Boston Bruins.
1973:
Yvan Cournoyer and Jacques Lemaire each scored a goal and added an assist as the Canadiens won 2-1 over the Buffalo Sabres, in Game 1 of the Stanley Cup Quarter-Finals.
1976:
Montreal set a new NHL record for most wins in a season, with their 58th of the year, a 4-3 victory over the Washington Capitals. The Canadiens broke the old record of 57 wins, set by Boston in 1970-71.
1979:
Jacques Lemaire scored his 7th (and final) career hat trick and added an assist as Montreal won 4-1 against the Detroit Red Wings. Ken Dryden became the first goaltender in history to win 30-or-more games in each of his first seven NHL seasons.
Habs Born on This Day:
Pat Burns (1952), Yanic Perreault (1971), Martti Jarventie (1976)
Sources:
www.hhof.com
www.sihrhockey.org