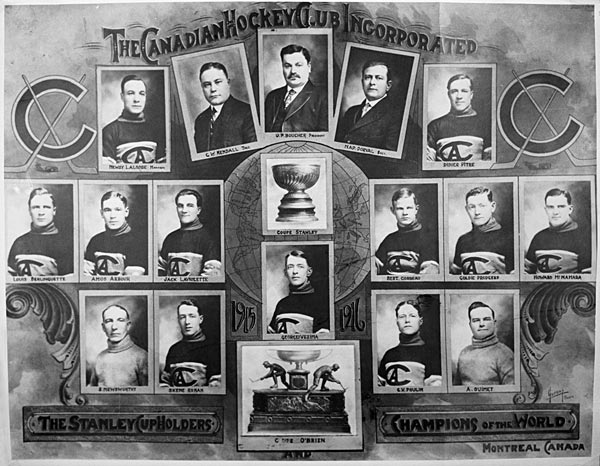 (photo: Hockey Hall of Fame)
And so it began. On March 30, 1916, the Montreal Canadiens (then with the NHA) won their first of 24 Stanley Cups, defeating the PCHA Portland Rosebuds 2-1.
Though clearly acknowledged by the Canadiens and their fans and followers, it is often a Stanley Cup overlooked by the NHL, which formed in the 1917 season, and is not always noted on league merchandise.
The Cup Series also featured the first American team to compete for the Cup. The Rosebuds had battled back in the fourth game, two days prior, nearly losing the lead to force the fifth and deciding game.
Defenseman George "Goldie" Prodger scored the Habs first Cup-winning goal, at 17:20 of the third period. For their efforts, each player received $238 for the victory.
Elsewhere on this day…
1919: Down 3-0 to the Seattle Metropolitans, the Canadiens score three times (two by Newsy Lalonde) in the third period to force overtime. Jack McDonald's goal at 15:57 of OT gave the Canadiens the win. The Stanley Cup Series was tied at 2-2-1, but never resumed, due to the Spanish Flu epidemic.
1944: The Canadiens set a playoff record for most goals in one period, with seven in the 3rd against Toronto (including five goals within a span of 3:36). The Canadiens beat the Toronto Maple Leafs, 11-0 in the 5th and deciding game of their Stanley Cup Semi-Final series. Rookie Bill Durnan recorded his first playoff shutout, Ray Getliffe scored two goals and three assists, and Maurice Richard added a goal and three assists.
1954: Jacques Plante recorded his third career playoff shutout as the Canadiens won 2-0 over the Boston Bruins, in Game 4 of the Stanley Cup Semi-Finals. The win gave Montreal the series victory in four straight games.
1957: Bernie Geoffrion scored three goals and an assist, Jean Beliveau had two goals and three assists and Bert Olmstead picked up five assists in the Canadiens' 8-3 win against the New York Rangers, in Game 3 of the Stanley Cup Semi-Finals.
1975: Jacques Lemaire became the 10th player in history to score 250 goals as a member of the Montreal Canadiens. The milestone came in a 2-2 tie with Boston.
1982: Pierre Mondou scored his third (and final) career hat trick as the Canadiens won 6-4 against the Hartford Whalers.
Habs Born on This Day: Al Johnson (1935), Doug Wickenheiser (1961), Ben Maxwell (1988)
Sources:
Edmonton Journal, April 1, 1919, "Canadiens Came From Behind and Won Fifth Stanley Cup Game 4-3."