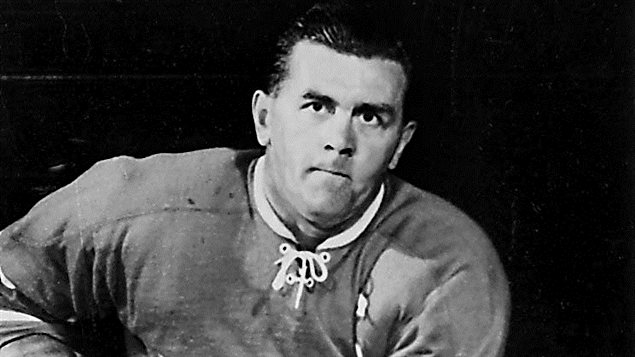 Maurice Richard broke Joe Malone's scoring record on February 25, 1945 (Photo: AP)
1940: The New York Rangers faced the Montreal Canadiens in the first hockey game televised in the U.S. The game aired on station W2XBS in New York, with one camera in a fixed position to 300 TV receivers in New York. The Rangers won the game 6-2.

1945: Maurice Richard breaks Joe Malone's NHL record for most goals in a season. The Rocket scored his 45th goal in a 5-2 win over the Toronto Maple Leafs.

1947: The Hockey Hall of Fame announced it's newest members, including Canadiens star Aurel Joliat. Other inductees included Frank Nighbor, Lester Patrick, Eddie Shore, and Fred "Cyclone" Taylor.

1954: Jacques Plante records his second career shutout in a scoreless tie with the Toronto Maple Leafs.

1971: Peter Mahovlich scores his first career hat trick in Montreal's 5-3 win over the Los Angeles Kings.

1987: Larry Robinson becomes the 4th NHL defenseman to reach 800 career points, in a 3-3 tie with the Chicago Blackhawks.

1990: Eric Desjardins scores the 15,000 goal in club history, during a 6-5 overtime win against the St. Louis Blues.

1997: Vincent Damphousse records his 500th career assist in the Habs' 4-2 win over the Vancouver Canucks.

2007: The Canadiens trade popular defenceman Craig Rivet and a 5th round pick (Julien Demers) in 2008 to the San Jose Sharks for Josh Gorges and a 1st round pick (Max Pacioretty) in 2007.
Sources:
www.sihrhockey.org