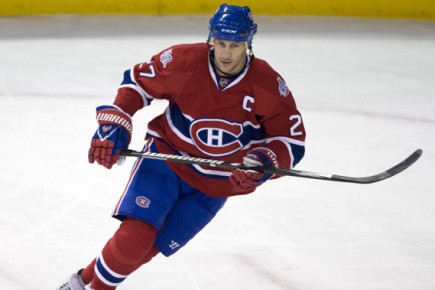 Lordy, Lordy look who's 40! (Photo: Robert Skinner, La Presse)
1934: Pit Lepine's 5th and final NHL hat trick leads the Canadiens toa 3-2 victory over the Chicago Black Hawks.
1955: Doug Harvey ties Babe Pratt's NHL record for defensemen with his 40th assist on the season. The Canadiens tied the Toronto Maple Leafs 1-1.
1965: Henri Richard scored his 4th career hat trick and added two assists in the Canadiens 6-1 win over the New York Rangers.
1976: Pete Mahovlich had a goal and three assists in the Habs 6-2 win over the St. Louis Blues.
1984: The Canadiens fire coach Bob Berry and replace him with Jacques Lemaire.
1985: Bob Gainey had two goals, including the overtime winner, in Montreal's 4-3 win over the New York Islanders.
1988: Stephane Richer scores two goals and adds three assists in a 5-4 win over the Vancouver Canucks.
1990: The Canadiens set a team record with 61 shots on goal in an 11-1 win over the Pittsburgh Penguins. Russ Courtnall and Guy Carbonneau led the scoring with four points each. You can read more on that in a more detailed piece that I wrote a few years ago.
2011: The Canadiens trade Ben Maxwell and a 4th round pick (Josiah Didier) in 2011 (later re-acquired by Montreal) to the Atlanta Thrashers for Brent Sopel and Nigel Dawes.
Habs Born on This Day: George Pargeter (1923), Jeff Brubaker (1958), Brian Savage (1971), Alex Kovalev (1973)
Sources: