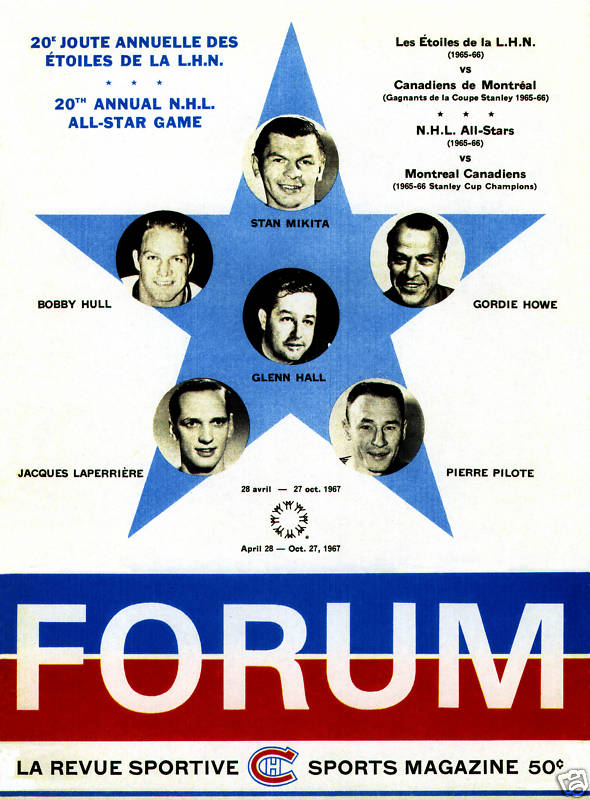 On this day in 1967, the 20th NHL All-Star Game is held in mid-season for the first time on a regular basis. It was the first time an event like this occurred mid-season in the NHL since the Ace Bailey Benefit Game in 1934.
The defending Stanley Cup Champion Canadiens defeated the All-Stars 3-0. John Ferguson scored two goals for the Habs while Charlie Hodge and Gary Bauman shared the shutout. Henri Richard was named the game's MVP, with the game-winning goal and an assist.
Also on this day..
1950: Bill Durnan records his 7th shutout of the year in the Canadiens 1-0 win over the Toronto Maple Leafs. It was the 33rd shutout of his career.
1958: The Canadiens fall to the Boston Bruins 3-0. More importantly, Willie O'Ree breaks the color barrier, becoming the first black player to play an NHL game.
1978: The Canadiens tie an NHL record with their 8th straight road win. Guy Lafleur and Jacques Lemaire each had four points in the 7-4 win over the Cleveland Barons.
1986: Doug Soetaert records his 3rd shutout of the season, as the Canadiens defeated the New York Islanders 3-0. It would be Soetart's last NHL whitewash.
1997: Representing the Canadiens at the All-Star Game, Mark Recchi scores a hat trick in the Eastern Conference's 11-7 win over the Western Conference.